Details
Marja Wall Art
Call Store for Availability
Local store prices and products may vary by location.
Prices displayed in USD only.
Additional Information
Details & Overview
Details & Overview
Description
This black and white artwork is just the right formula for showcasing your brilliant sense of style. Gallery wrapped canvas of the periodic table features hand embellishing for an authentic look.
Gallery wrapped framed canvas
Hand painted embellishment
D-ring hanger
Weight
9 lbs. (4.08 kgs.)
Read More
Dimensions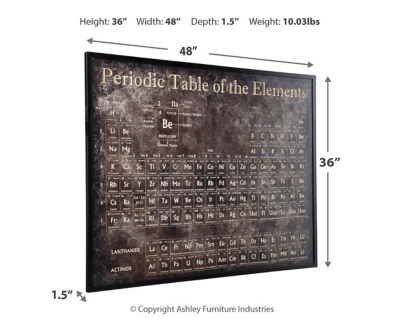 Width: 48.00"
Depth: 1.26"
Height: 36.00"
Read Less
Customer Care
For help with your online or in-store purchase, please select from the options below.
YOU MAY ALSO LIKE
Stupell In This House We Love Family Heart Rustic Wall Art

Description

This wall art spreads the love with stylish sensibility. This giclee print has a texturized brush stroke finish and sits within a ready-to-hang black frame.

Giclee lithograph mounted on wood with a texturized brush stroke finish
Black frame
Ready to hang
Design by jo moulton
Made in usa

View All Details

FREE

UPS or FedEx Shipping

Delivered to your door
Assembly may be required
Excludes Alaska & Hawaii

Online Only!

Online Only

Items sold online only
Not available in-store

Stupell In This House We Love Family Heart Rustic Wall Art

Description

This wall art spreads the love with stylish sensibility. This giclee print has a texturized brush stroke finish and sits within a ready-to-hang gray frame.

Giclee lithograph mounted on wood with a texturized brush stroke finish
Gray frame
Ready to hang
Design by jo moulton
Made in usa

View All Details

FREE

UPS or FedEx Shipping

Delivered to your door
Assembly may be required
Excludes Alaska & Hawaii

Online Only!

Online Only

Items sold online only
Not available in-store

Stupell Industries Dining Reviews Five Star Kitchen Wall Art

Description

Show how many stars your kitchen has! First came wood, then came canvas, and now we introduce our 'Framed Giclee Textured Wall Art.' 100% Made in USA as always, we start with a giclee lithograph mounted on wood, and finish it with a texturized brush stroke finish. We didn't stop there though as we fit it within a 1.5 inch thick ebony wood grain frame to add depth and diminsion. Ready to hang.

Ready to hang
Proudly made in usa
Design by artist daphne polselli

View All Details

FREE

UPS or FedEx Shipping

Delivered to your door
Assembly may be required
Excludes Alaska & Hawaii

Online Only!

Online Only

Items sold online only
Not available in-store

Stupell Industries Live Everyday with Intention Quote Wall Art

Description

Shiplap provides the perfect background for inspiration to live by: Live everyday with intention. First came wood, then came canvas, and now we introduce our 'Framed Giclee Textured Wall Art.' 100% Made in USA as always, we start with a giclee lithograph mounted on wood, and finish it with a texturized brush stroke finish. We didn't stop there though as we fit it within a 1.5 inch thick ebony wood grain frame to add depth and dimension. Ready to hang.

FREE

UPS or FedEx Shipping

Delivered to your door
Assembly may be required
Excludes Alaska & Hawaii

Online Only!

Online Only

Items sold online only
Not available in-store

Description

This black and white artwork is just the right formula for showcasing your brilliant sense of style. Gallery wrapped canvas of the periodic table features hand embellishing for an authentic look.

Gallery wrapped framed canvas
Hand painted embellishment
D-ring hanger

View All Details

FREE

UPS or FedEx Shipping

Delivered to your door
Assembly may be required
Excludes Alaska & Hawaii

Stupell Industries Black and White Highland Cow Wall Art

Description

The long hair and long horns of the Scottish Highland cow have become a decorating icon. The delicate balance of greys in this photograph create a serene portrait. First came wood, then came canvas, and now we introduce our 'Framed Giclee Textured Wall Art.' 100% Made in USA as always, we start with a giclee lithograph mounted on wood, and finish it with a texturized brush stroke finish. We didn't stop there though as we fit it within a 1.5 inch thick ebony wood grain frame to add depth and diminsion. Ready to hang.

Ready To Hang
Proudly Made In USA
Design By Artist Joe Reynolds

View All Details

FREE

UPS or FedEx Shipping

Delivered to your door
Assembly may be required
Excludes Alaska & Hawaii

Online Only!

Online Only

Items sold online only
Not available in-store

Stupell Industries Grow an Old Friend Quote Wall Art

Description

Hand painting and lettering show true blue friendship. Proudly made in the USA, all of our wall plaques start off as high quality lithograph prints that are then mounted on durable MDF wood. Each piece is hand finished and comes with a fresh layer of foil on the sides to give it a crisp clean look. It arrives ready to hang with no installation required, and comes with sturdy clear corners to keep it from damaging in transit.

FREE

UPS or FedEx Shipping

Delivered to your door
Assembly may be required
Excludes Alaska & Hawaii

Online Only!

Online Only

Items sold online only
Not available in-store

Stupell Dog And Cat on a Red Motorcycle Road Trip Wall Art

Description

Add some cool and colorful character to your decor with this artwork of two furry friends riding in style on a red motorcycle. This giclee print has a texturized brush stroke finish and sits within a ready-to-hang black frame.

Giclee lithograph mounted on wood with a texturized brush stroke finish
Black frame
Ready to hang
Design by tai prints
Made in usa

View All Details

FREE

UPS or FedEx Shipping

Delivered to your door
Assembly may be required
Excludes Alaska & Hawaii

Online Only!

Online Only

Items sold online only
Not available in-store

Creative Gallery Shalia Floral Barnwood Framed Canvas Wall Art

Description

Add vibrancy to your walls with this Shalia Close Wall Art. The colorful look of arranged flowers in a crystal vase will compliment any room. Perfect for adding a touch of nature to your home or office decor. Each piece is showcased in a unique, hand-crafted reclaimed wood frame.

Real hand-crafted, reclaimed wood frame for a rustic look
Art is printed on high quality canvas, then mounted onto sturdy mounting board
Ships ready to hang
Handcrafted in the usa

View All Details

FREE

UPS or FedEx Shipping

Delivered to your door
Assembly may be required
Excludes Alaska & Hawaii

Online Only!

Online Only

Items sold online only
Not available in-store

Stupell Industries Be Kind Phrase Motivational Attitude Wall Art

Description

A red poppy reminds us to be kind. First came wood, then came canvas, and now we introduce our 'Framed Giclee Textured Wall Art.' 100% Made in USA as always, we start with a giclee lithograph mounted on wood, and finish it with a texturized brush stroke finish. We didn't stop there though as we fit it within a 1.5 inch thick ebony wood grain frame to add depth and dimension. Ready to hang.

FREE

UPS or FedEx Shipping

Delivered to your door
Assembly may be required
Excludes Alaska & Hawaii

Online Only!

Online Only

Items sold online only
Not available in-store

Providence Art Giclee Abstract Figures 2 Wall Art

Description

Add an urban edge to your decor with this abstract figures sketch. This giclee reproduction is framed for true city style.

Giclee reproduction
Matte paper/matboard
Polystyrene moulding
Dark gray and goldtone frame
Wired for hanging

View All Details

FREE

UPS or FedEx Shipping

Delivered to your door
Assembly may be required
Excludes Alaska & Hawaii

Online Only!

Online Only

Items sold online only
Not available in-store

Stupell Family Rules Text Wall Art

Description

Remind your family of the most important rules with this charming piece of wall art. Various heartwarming phrases sit on top of a printed wood background for a casual appeal. This giclee print has a texturized brush stroke finish and sits within a ready-to-hang black frame.

Giclee lithograph mounted on wood with a texturized brush stroke finish
Black frame
Ready to hang
Design by kimberly allen
Made in usa

View All Details

FREE

UPS or FedEx Shipping

Delivered to your door
Assembly may be required
Excludes Alaska & Hawaii

Online Only!

Online Only

Items sold online only
Not available in-store

Stupell Industries Softened Beach Rocks Nautical Coast Line Wall Art

Description

First came wood, then came canvas, and now we introduce our 'Framed Giclee Textured Wall Art.' 100% Made in USA as always, we start with a giclee lithograph mounted on wood, and finish it with a texturized brush stroke finish. We didn't stop there though as we fit it within a 1.5 inch thick ebony wood grain frame to add depth and dimension. Ready to hang.

Dimensions: 24 x 1.5 x 30 inch frame
Proudly made in usa
We start with a giclee lithograph mounted on wood, and finish it with a texturized brush stroke finish. We didn't stop there though as we fit it within a 1.5 inch thick ebony wood grain frame to add depth and diminsion.
Ready to hang - no installation or hardware needed
Design by third and wall

View All Details

FREE

UPS or FedEx Shipping

Delivered to your door
Assembly may be required
Excludes Alaska & Hawaii

Online Only!

Online Only

Items sold online only
Not available in-store

Stupell Industries Bathroom Humor Text Me if You Need Toilet Paper Wall Art

Description

Nice whimsical message for the bathroom. A simple line drawing with a watercolor background will fit with any décor. First came wood, then came canvas, and now we introduce our 'Framed Giclee Textured Wall Art.' 100% Made in USA as always, we start with a giclee lithograph mounted on wood, and finish it with a texturized brush stroke finish. We didn't stop there though as we fit it within a 1.5 inch thick ebony wood grain frame to add depth and dimension. Ready to hang.

FREE

UPS or FedEx Shipping

Delivered to your door
Assembly may be required
Excludes Alaska & Hawaii

Online Only!

Online Only

Items sold online only
Not available in-store

Stupell Industries Dog Makes You Uncomfortable Joke Wall Art

Description

A little whimsy to let people know your four-legged friend is part of the family. Proudly made in the USA, all of our wall plaques start off as high quality lithograph prints that are then mounted on durable MDF wood. Each piece is hand finished and comes with a fresh layer of foil on the sides to give it a crisp clean look. It arrives ready to hang with no installation required, and comes with sturdy clear corners to keep it from damaging in transit.

FREE

UPS or FedEx Shipping

Delivered to your door
Assembly may be required
Excludes Alaska & Hawaii

Online Only!

Online Only

Items sold online only
Not available in-store

Creative Gallery Howlite and Onyx Swirl Barnwood Framed Canvas Wall Art

Description

Invigorate your interior style with the stunning contemporary Howlite and Onyx Wall Art. This piece offers a bold abstract design that is sure to make a statement in any room. Mimic natural elements and gems, this piece would be a great addition to your home or office. Each piece is showcased in a unique, hand-crafted reclaimed wood frame.

Real hand-crafted, reclaimed wood frame for a rustic look
Art is printed on high quality canvas, then mounted onto sturdy mounting board
Ships ready to hang
Handcrafted in the usa

View All Details

FREE

UPS or FedEx Shipping

Delivered to your door
Assembly may be required
Excludes Alaska & Hawaii

Online Only!

Online Only

Items sold online only
Not available in-store

Providence Art Giclee Golden Fields Wall Art

Description

Create a lovely space with this landscape. This impressionistic image is reproduced on a gallery wrapped canvas with artist-applied paint for authentic texture.

Giclee reproduction on canvas
Wood stretcher bar
Polystyrene moulding
Espresso floater frame
Hand-applied painted texture

View All Details

FREE

UPS or FedEx Shipping

Delivered to your door
Assembly may be required
Excludes Alaska & Hawaii

Online Only!

Online Only

Items sold online only
Not available in-store

Providence Art Giclee Puppy Wall Art

Description

A doggone colorful addition that works in any space, this puppy wall art is pet-icularly adorable. Black floater frame and hand-applied paint texture add to its gallery-like appeal.

Giclee reproduction on canvas
Wood stretcher bar
Hand-applied paint texture
Black wood floater frame
D-ring hanger

View All Details

$740.99

or $28/mo suggested payments w/ 12 mos special financing Learn How Based on retail price of $334.99 (sales & promotions excluded)

FREE

UPS or FedEx Shipping

Delivered to your door
Assembly may be required
Excludes Alaska & Hawaii

Online Only!

Online Only

Items sold online only
Not available in-store

Stupell Industries Fashion Heels and Books Designer Details Wall Art

Description

First came wood, then came canvas, and now we introduce our 'Framed Giclee Textured Wall Art.' 100% Made in USA as always, we start with a giclee lithograph mounted on wood, and finish it with a texturized brush stroke finish. We didn't stop there though as we fit it within a 1.5 inch thick ebony wood grain frame to add depth and dimension. Ready to hang.

Dimensions: 12 x 1.5 x 12 inch frame
Proudly made in usa
We start with a giclee lithograph mounted on wood, and finish it with a texturized brush stroke finish. We didn't stop there though as we fit it within a 1.5 inch thick ebony wood grain frame to add depth and dimension.
Ready to hang - no installation or hardware needed
Design by ziwei li

View All Details

FREE

UPS or FedEx Shipping

Delivered to your door
Assembly may be required
Excludes Alaska & Hawaii

Online Only!

Online Only

Items sold online only
Not available in-store

Providence Art Giclee Floral Wall Art

Description

Featuring hand-applied paint texture for a sense of authenticity, this floral art work adds a fresh, organic element to your space. Tastefully framed giclee reproduction is designed to make gallery-quality art highly affordable.

Matte giclee reproduction on canvas
Wood stretcher bar
Hand-applied painted texture
Polystyrene floater frame in dark espresso
D-ring hanger

View All Details

$704.99

or $27/mo suggested payments w/ 12 mos special financing Learn How Based on retail price of $321.99 (sales & promotions excluded)

FREE

UPS or FedEx Shipping

Delivered to your door
Assembly may be required
Excludes Alaska & Hawaii

Online Only!

Online Only

Items sold online only
Not available in-store