Our Mission
---
Ashley HomeStore believes that every child should have a bed to call their own.
How it Works
---
A portion of your mattress purchase at participating Ashley HomeStore locations goes toward Hope to Dream. Ashley HomeStore has delivered more than 50,000 beds to children and their families.
What they Receive
---
We provide a twin mattress, bed frame, bedding and pillow (a $399 value) to a deserving child; a child who might otherwise suffer the negative physical and emotional effects of sleep deprivation.
Benefits of Sleep
increases the attention span
for better academic performance
enhances creativity
boosts immune system
to fight off sickness
Sleep Recommendations
| Age | Hours |
| --- | --- |
| 3-5 | 10-13 |
| 6-13 | 9-11 |
| 14-17 | 8-10 |
*The National Sleep Foundation
Importance of Sleep
Poor sleep leads to:
emotional turmoil
behavioral problems
anxiety
difficulty concentrating
developmental problems
*The American Psychological Association
Sleep Requirements
Requirements for good sleep:
exercise and good nutrition
dark, quiet room
appropriate bed linens
clean, comfortable mattress
With your help, we'll deliver more beds and continue our mission to change young lives... one bed at a time.
If you know a child who would benefit from Hope to Dream,
you can nominate them to receive a bed.
Meet Jessica
Like many children from immigrant families, Jessica hasn't had it easy. For many years her parents worked the fields in Florida and Michigan. As a child, Jessica traveled with her family, harvesting crops alongside her parents and younger brothers and sisters.
Now 22, Jessica says that seven years ago, finding a place for the family to sleep, especially the little ones, was a challenge.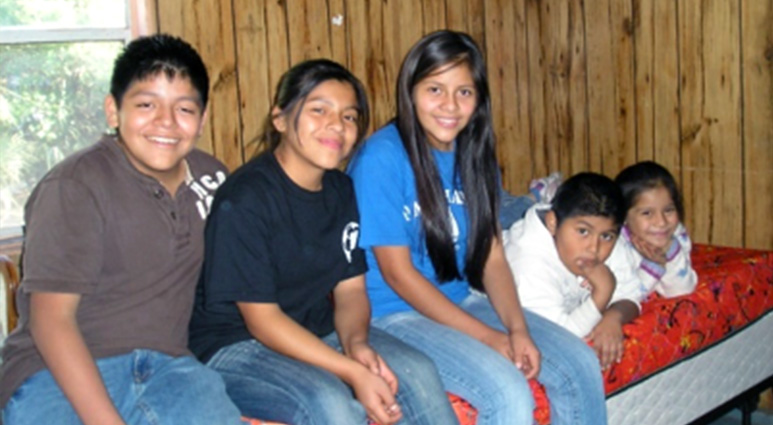 It humbles me to see where I came from. And where I am now, and where I could be later.
While living in Florida, they shared a small trailer with another family and all lived in one room. When it came to beds, Our family rotated, recalls Jessica. Some of us would sleep on the couch, others would sleep on the floor – just lay a few blankets and sleep on top.
When associates at Ashley HomeStore in Brandon heard about their living conditions, they sprang into action. Through Hope to Dream, Ashley donated four beds to the family. Jessica recalls that it was a turning point in her life.
I never pictured having a bed. It really made an impact…there (was) a possibility for us to grow up and have bed and have our own rooms, and have a bigger house. We never experienced having something to own like that.
But more importantly, Jessica says owning her own bed was the beginning of her brighter future. It would be just a bed for anyone, but it was more than just a bed for us. It was a change of mindset.
Today, Jessica is a sophomore in college, and her sister is attending another college on scholarship, while her younger brother plans to enroll soon. She says Hope to Dream gave her and her family the hope that dreams could come true.
It wasn't that we didn't have dreams before. But it inspired us that those dreams were realistic dreams. …we could provide a better future for ourselves and our parents.
With tears in her eyes, Jessica says, It humbles me to see where I came from. And where I am now, and where I could be later.