Details
Honey-Can-Do Folding Seagrass Belly Baskets (Set of 2)
Online Only
Items sold online only
Not available in-store
Call Store for Availability
Local store prices and products may vary by location.
Prices displayed in USD only.
Color:
Black/Brown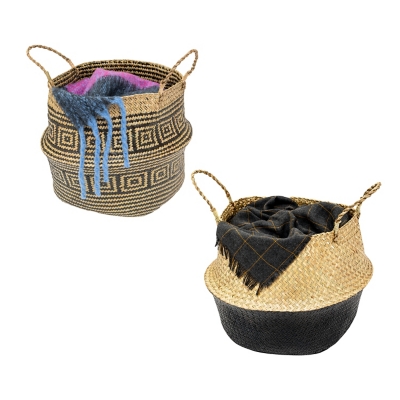 Additional Information
Details & Overview
Details & Overview
Description
These folding seagrass belly baskets keep your space tidy by acting as catch-all storage for any room in the home. They hold anything from throw blankets to towels to books, even double as a place to showcase large plants. These nesting storage baskets are stackable when not in use and handles make transporting items from room to room simple. In addition to their undisputed functionality, their folding top half design brings a unique element to any space.
Stylish, decorative option to stow away blankets, magazines, and more
Black design weave and 2-tone patterns bring an eye-catching statement and functionality to any space
Loop handles make baskets easy to carry from room to room
Double as plant holders
Weight
3.31 lbs. (1.5 kgs.)
Read More
Dimensions
Width: 18.00"
Depth: 18.00"
Height: 14.00"
Read Less
Customer Care
For help with your online or in-store purchase, please select from the options below.
YOU MAY ALSO LIKE
Honey-Can-Do Parchment Cord Boxes (Set of 3)

Description

Honey-Can-Do STO-03556 3-Piece Set Paper Rope Baskets, Butter. Keep clutter at bay with our three piece set of paper rope baskets. Available in three sizes, this set of baskets provides endless storage options for any room of the house, and the hinged lid keeps contents out of sight. Built-in carrying handles make for easy transport. Product Sizes: Small - 13.75"L x 8.5"W x 5.25"H; Medium - 15.5"L x 10.25"W x 6"H; Large - 17"L x 11.5"W x 6.5"H

FREE

UPS or FedEx Shipping

Delivered to your door
Assembly may be required
Excludes Alaska & Hawaii

Online Only!

Online Only

Items sold online only
Not available in-store

Honey-Can-Do Rectangle Nesting Seagrass 2-Color Baskets with Built-In Handles (Set of 3)

Description

Clear the clutter in your space, whichever space it is, with these three rectangle storage baskets that can hold anything from throw towels to books to computer cords. These nesting storage baskets are stackable when not in use for easy storage, and their built-in handles make transporting items from room to room a breeze. In addition to their undisputed functionality, the two-colored seagrass design brings a unique design element to your surroundings.

Simple storage for small items and accessories
Perfect for any room in the home
Built-in handles for easy transport
Durable material with natural design

View All Details

FREE

UPS or FedEx Shipping

Delivered to your door
Assembly may be required
Excludes Alaska & Hawaii

Online Only!

Online Only

Items sold online only
Not available in-store

Honey-Can-Do Nesting Rectangle Maize Baskets (Set of 3)

Description

Clear the clutter in your space, whichever space it is, with these three rectangle storage baskets that can hold anything from throw towels to books to computer cords. These nesting storage baskets are stackable when not in use, and their built-in handles make transporting items around a breeze. In addition to their undisputed functionality, they bring a unique design element to your space.

Simple storage baskets for small items and accessories
Set nests so bins can stack when not in use
Easily transport items from room to room with convenient built-in handles
Durable material with natural design

View All Details

FREE

UPS or FedEx Shipping

Delivered to your door
Assembly may be required
Excludes Alaska & Hawaii

Online Only!

Online Only

Items sold online only
Not available in-store

Honey-Can-Do Square Nesting Water Hyacinth Baskets

Description

Honey-Can-Do STO-04465 3-Piece Rectangular Water Hyacinth Baskets, Natural/Brown. Personalize your home with our unique water hyacinth baskets. These all-purpose storage nested baskets can be used in any room without detracting from the look of your home. Each basket's sturdy frame ensures it can handle whatever you store in it, from toiletries to linens to sports equipment. Sustainable water hyacinth lets you organize your home while helping to save the planet. Coordinates with our wide variety of Honey-Can-Do water hyacinth products.

Versatile storage baskets
Made from natural materials
Wood handles

View All Details

FREE

UPS or FedEx Shipping

Delivered to your door
Assembly may be required
Excludes Alaska & Hawaii

Online Only!

Online Only

Items sold online only
Not available in-store

Honey-Can-Do Black Cotton Coil Baskets (Set of 3)

Description

Simple and functional, this soft-to-the-touch 3-piece set of cotton coil baskets is your go-anywhere/do-anything catch all for storage. Baskets look decorative in any setting and have handles so you can easily move things around your space. Store anything from linens to bathroom accessories, and store it in style.

Cotton baskets can be used to store anything from linens to accessories to toiletries and more
Set nests so bins can stack when not in use
Easily transport items from room to room with convenient built-in handles
Dimensions: small 15"l x 9"w x 8"h; medium 16"l x 11"w x 9"h; large 19"l x 13"w x 10"h

View All Details

FREE

UPS or FedEx Shipping

Delivered to your door
Assembly may be required
Excludes Alaska & Hawaii

Online Only!

Online Only

Items sold online only
Not available in-store

Honey-Can-Do Metal Frame Nesting Round Rope Baskets (Set of 3)

Description

These sturdy metal frame baskets provide you the durability you need for everyday use, and the charming white rolled rope look will have them ooh'ing and ahh'ing once they step in the door. Nesting frames allow you to maximize space when not in use, and when they are in use, maximize your organization by storing blankets, shoes, scarves and more in these trusted rope baskets.

Store blankets and more with these chic textured baskets
Baskets next for stacking when not in use
Natural white woven cotton rope on a sturdy steel wire frame
Material: cotton rope, steel frame

View All Details

FREE

UPS or FedEx Shipping

Delivered to your door
Assembly may be required
Excludes Alaska & Hawaii

Online Only!

Online Only

Items sold online only
Not available in-store

Honey-Can-Do Square Nesting Seagrass 2-Color Baskets (Set of 3)

Description

No matter the room, you your need for it to be neat and tidy is unparalleled. Now's your chance with these three square storage baskets that can hold anything from throw towels to books to computer cords. These nesting storage baskets are stackable for easy storage when not in use, and in addition to their undisputed functionality, the two-colored seagrass design brings a unique design element to your space.

Simple storage for small items and accessories
Perfect for any room in the home
Durable material with natural design
Dimensions: Large – 17"W x 13.25"D x 10.25"H; Medium - 14.5"W x 12"D x 10"H Small - 12.5"W x 10.25"D x 9"H

View All Details

FREE

UPS or FedEx Shipping

Delivered to your door
Assembly may be required
Excludes Alaska & Hawaii

Online Only!

Online Only

Items sold online only
Not available in-store

Honey-Can-Do Round Nesting Seagrass 2-Color Baskets with Handles (Set of 3)

Description

Keep your space, whichever space it is, tidy with these three different-size storage baskets that can hold anything from throw blankets to towels to books. These nesting storage baskets are stackable when not in use for easy storage, and handles make transporting items from room to room simple. In addition to their undisputed functionality, the two-colored seagrass design brings a unique design element to your surroundings.

Small, medium and large basket provide storage versatility
Perfect for any room in the home
Handles for easy transport
Durable seagrass with natural design

View All Details

FREE

UPS or FedEx Shipping

Delivered to your door
Assembly may be required
Excludes Alaska & Hawaii

Online Only!

Online Only

Items sold online only
Not available in-store

Honey-Can-Do 3-Piece Zig Zag Baskets, Dark Gray

Description

Honey-Can-Do STO-06690 Zig Zag Set of Three Baskets, Gray. Brighten up your storage area with this three-piece set of totes from Honey-Can-Do. Available in three sizes, each tote features two attached rope handles for easy transport. The woven pattern adds dimension and a pop of color to your office, living area, playroom or closet. Small basket measures 10"L x 7"W x 5"H; medium basket measures 11.5"L x 8.5"W x 5.5"H; large basket measures 13"L x 10"W x 6"H.

FREE

UPS or FedEx Shipping

Delivered to your door
Assembly may be required
Excludes Alaska & Hawaii

Online Only!

Online Only

Items sold online only
Not available in-store

Honey-Can-Do 3-Piece Zig Zag Baskets, Gray

Description

Honey-Can-Do STO-06686 Zig Zag Set of Three Baskets, Cool Gray. Brighten up your storage area with this three-piece set of totes from Honey-Can-Do. Available in three sizes, each tote features two attached rope handles for easy transport. The woven pattern adds dimension and a pop of color to your office, living area, playroom or closet. Small basket measures 10"L x 7"W x 5"H; medium basket measures 11.5"L x 8.5"W x 5.5"H; large basket measures 13"L x 10"W x 6"H.

FREE

UPS or FedEx Shipping

Delivered to your door
Assembly may be required
Excludes Alaska & Hawaii

Online Only!

Online Only

Items sold online only
Not available in-store

Honey-Can-Do 3-Piece Zig Zag Baskets, Black

Description

Honey-Can-Do STO-06687 Zig Zag Set of Three Baskets, Black. Brighten up your storage area with this three-piece set of totes from Honey-Can-Do. Available in three sizes, each tote features two attached rope handles for easy transport. The woven pattern adds dimension and a pop of color to your office, living area, playroom or closet. Small basket measures 10"L x 7"W x 5"H; medium basket measures 11.5"L x 8.5"W x 5.5"H; large basket measures 13"L x 10"W x 6"H.

FREE

UPS or FedEx Shipping

Delivered to your door
Assembly may be required
Excludes Alaska & Hawaii

Online Only!

Online Only

Items sold online only
Not available in-store

Honey-Can-Do Nested Cotton Baskets with Handles (Set of 3)

Description

Bathroom storage made easy with these 3 nested baskets made of marled cotton cording. Ideal for small accessory bathroom storage, the two smaller baskets and one large basket are great for hair accessories, makeup and more. Easy-carry handles provide easy transport of your items and the soft aesthetic will ease right into your bathroom space.

Includes 2 smaller baskets, nested inside larger basket
Perfect for storing household items in linen closets or on countertops
Cording is neutral champagne color which provides softness to your space
Features handles for easy carrying

View All Details

FREE

UPS or FedEx Shipping

Delivered to your door
Assembly may be required
Excludes Alaska & Hawaii

Online Only!

Online Only

Items sold online only
Not available in-store

Hannah 20-Inch Oval Resin Basket with Handle (Size Large)

Description

Hannah Oval Resin Basket is your grab-and-go home organizing companion. The product can be used as plant basket, storage basket to organize your small items like clothes, books, toys, blankets, pillows, and more. With smooth finish in gray mix white color, the basket offers a minimalist look that easily blends with any home decor. Hand-woven from resin wicker, it's very strong and durable. Two easy-to-hold ear handles on the side is convenient for moving the basket to any places. It's one of the best solution to keep all your stuff always clean and neat.

Can be used as plant basket, storage basket to organize your small items like clothes, books, toys, blankets, pillows, and more
Made from resin
Strong and durable with smooth finish, ear handles
Easy to match with any home decor
20" L x 17" W x 13/16" H; Weight: 3 lbs; Weight Capacity: 40 lbs

View All Details

FREE

UPS or FedEx Shipping

Delivered to your door
Assembly may be required
Excludes Alaska & Hawaii

Online Only!

Online Only

Items sold online only
Not available in-store

Honey-Can-Do Parchment Cord Storage Crate

Description

Honey-Can-Do STO-03562 Paper Rope Storage Crate, White. Keep clutter at bay with our paper rope crate basket. The recycled and repurposed parchment is formed into strap-like fibers, making the crate durable and eco-friendly. The wire frame adds to its strength, and the built-in carrying handles make it easy to transport. Measuring 12.2" L x 13" W x 10" H, this crate provides endless storage options for any room of the house and its neutral color matches any decor. Coordinates with other paper rope products from Honey-Can-Do.

Coordinating pieces
Endless storage options
Organize your living spaces

View All Details

FREE

UPS or FedEx Shipping

Delivered to your door
Assembly may be required
Excludes Alaska & Hawaii

Online Only!

Online Only

Items sold online only
Not available in-store

Honey-Can-Do Parchment Cord Boxes (Set of 3)

Description

Honey-Can-Do STO-03557 3-Piece Set Paper Rope Baskets, Taupe. Keep clutter at bay with our three piece set of paper rope baskets. Available in three sizes, this set of baskets provides endless storage options for any room of the house, and the hinged lid keeps contents out of sight. Built-in carrying handles make for easy transport. Product Sizes: Small - 13.75"L x 8.5"W x 5.25"H; Medium - 15.5"L x 10.25"W x 6"H; Large - 17"L x 11.5"W x 6.5"H

FREE

UPS or FedEx Shipping

Delivered to your door
Assembly may be required
Excludes Alaska & Hawaii

Online Only!

Online Only

Items sold online only
Not available in-store

9" And 13.25" Handwoven Natural Seagrass Baskets With Appliqued Edge (set Of 2 Sizes)

Description

Crafted of seagrass, this set of two naturally beautiful woven baskets with appliqued edging is an inspired choice for coastal or boho-chic spaces. Let this designer duo serve as a storage option for towels, toiletries, etc. Woven baskets are a handy home for artificial plants, too.

Set of 2
Handwoven
Made of seagrass
Small: 13" round x 5.5" h
Large: 9" round x 9" h

View All Details

FREE

UPS or FedEx Shipping

Delivered to your door
Assembly may be required
Excludes Alaska & Hawaii

Online Only!

Online Only

Items sold online only
Not available in-store

Honey-Can-Do Large Seagrass Basket

Description

Honey-Can-Do STO-02966 Large Seagrass Basket, natural/brown. Constructed of natural seagrass, this 20.25" x 10.5" x 10" storage basket is as durable as it is stylish. Its large size adds ample storage and style to any room, and its wooden handles make carrying the basket convenient and easy. This versatile basket is strong enough for everyday use and is perfect for storing towels, balls and everything in between. Easily renewable seagrass allows you to help the planet and organize your home at the same time. Coordinates with Honey-Can-Do's small and medium seagrass baskets.

FREE

UPS or FedEx Shipping

Delivered to your door
Assembly may be required
Excludes Alaska & Hawaii

Online Only!

Online Only

Items sold online only
Not available in-store

Honey-Can-Do Tea Stained Woven Basket (Set of 3)

Description

Honey-Can-Do STO-02886 Medium Tall Square water hyacinth Basket natural/brown. Made of sustainable water hyacinth, this medium square basket adds style and storage to any room. Measuring 10.5" x 10.5" x 10.5", this all-purpose storage basket can corral all of your household essentials. Featuring built-in handles, this basket is easy and convenient to carry. Sustainable water hyacinth lets you organize your home while helping to save the planet. Coordinates with our wide variety of Honey-Can-Do water hyacinth products.

Tightly woven portable storage baskets
Each bin fits into the other to take up less space
Natural baskets in lightly stained, soothing colors

View All Details

FREE

UPS or FedEx Shipping

Delivered to your door
Assembly may be required
Excludes Alaska & Hawaii

Online Only!

Online Only

Items sold online only
Not available in-store