Every
Delta Associate
enjoys
Storewide*
Offered to current and retired associates.
*Some exclusions apply. Valid in-store only.
See store for details.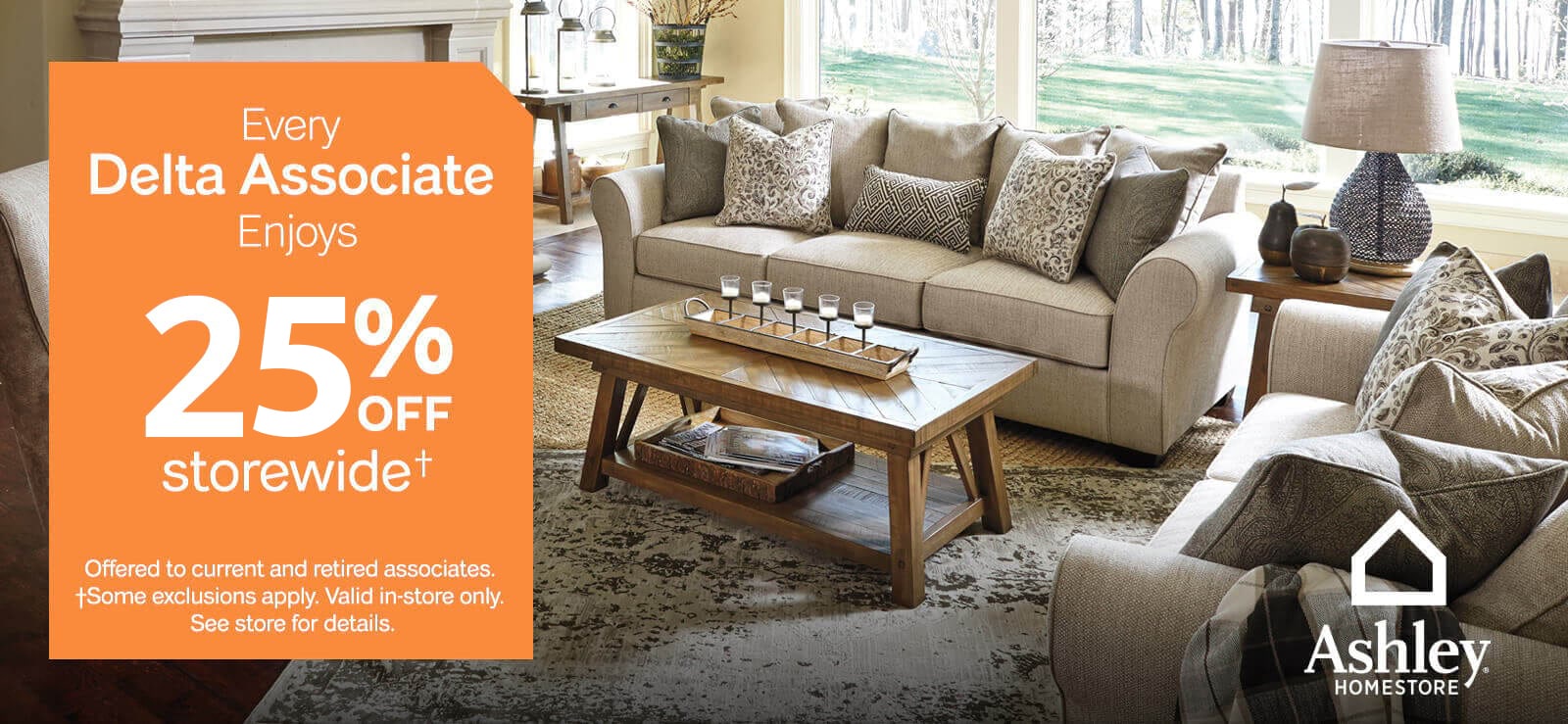 Furnish your home exactly as you envision at Ashley HomeStore. Sectionals, beds, mattresses, accessories and more—you can count on America's #1 Furniture and Mattress store to bring style and value home. Enjoy 25% off* your purchase by simply presenting your Delta employee badge at any of the participating Ashley HomeStore locations across the country.
Limitations: Cannot be combined with other discounts or offers. Applies to full price merchandise in-store only. Not valid at ashleyhomestore.com and on gift cards, services, taxes, delivery, previous purchases, or phone orders. [Exclusions apply. See participating store for details]. The value of any discount will not be refunded on returns or exchanges. This offer is not redeemable for cash. Ashley HomeStore may modify or discontinue this offer at any time without notice. Void where prohibited.
Participating Store Locations
| State | City | Address | Zip Code | Store Phone |
| --- | --- | --- | --- | --- |
| AL | Mobile | 1310 Tingle Circle Suite H | 36606 | (251) 414-3456 |
| AL | Opelika | 2401 Interstate Drive | 36801 | (334) 364-0440 |
| AL | Spanish Fort | 10200 Eastern Shore Blvd Suite 210 | 36527 | (251) 586-0174 |
| AZ | Casa Grande | 1375 E. Florence Blvd. | 85222 | (520) 876-4500 |
| AZ | Glendale | 6910 W. Bell Rd. Suite B | 85308 | (602) 443-4663 |
| AZ | Phoenix | 4711 E. Ray Rd. | 85044 | (480) 775-4663 |
| AZ | Avondale | 1479 N. Dysart Rd | 85323 | (623) 931-4663 |
| AZ | Mesa | 6233 E. Southern Ave. | 85206 | (480) 217-5219 |
| AZ | Flagstaff | 5005 E. Marketplace Dr. Suite 130 | 86004 | (530) 949-7244 |
| AZ | Phoenix | 7000 E. Mayo Blvd. Suite 11 | 85054 | (480) 812-4663 |
| AZ | Phoenix | 109 N. 37th Ave, | 85009 | (602) 442-7803 |
| CA | Montclair | 5055 S Montclair Plaza Lane | 31763 | (909) 625-4420 |
| CA | Palm Desert | 34740 Monterey Ave | 32211 | (760) 202-3052 |
| CA | Palmdale | 39626 10th Street West | 93551 | (661) 225-9410 |
| CA | Santa Clarita | 26520 Carl Boyer Dr | 91350 | (661) 284-7200 |
| CA | Victorville | 12704 Amaragosa Road | 92392 | (760) 261-5386 |
| CA | Burbank | 401 N 1st Street | 91502 | (818) 840-5620 |
| CA | Long Beach | 7410 Carson Blvd | 90808 | (562) 766-2050 |
| CA | Northridge | 9301 Tampa Ave Suite 1401 | 91324 | (818) 717-1740 |
| CA | Oxnard | 1721 E Ventura Blvd | 93036 | (805) 981-0284 |
| CA | West Covina | 2753 E Eastland Ctr Dr Suite 2078 | 91791 | (626) 938-1480 |
| CA | Colton | 855 Ashley Way | 92324 | (909) 433-5303 |
| CA | Hawthorne | 14600 S Ocean Gate Ave | 90250 | (310) 349-2083 |
| CA | Los Angeles | 1810 South Broadway | 90015 | (213) 745-2980 |
| CA | Santa Ana | 2800 N Main Place St Ste 2100 | 92705 | (714) 558-5300 |
| CA | Yorba Linda | 22705 Savi Ranch Pkwy | 92887 | (714) 363-9900 |
| CA | Fountain Valley | 18060 Euclid St | 92708 | (714) 549-3200 |
| CA | San Diego | 7770 Miramar Rd | 92126 | (619) 393-4663 |
| CA | San Marcos | 1050 Los Vallecitos Blvd | 92069 | (760) 304-8040 |
| CA | Laguna Hills | 24001 El Toro Road Suite 1 | 92653 | (949) 461-0829 |
| CA | Murrieta | 25125 Madison Avenue Ste. 106 | 92562 | (951) 894-7988 |
| CA | Folsom | 2799 E Bidwell Street | 95630 | (916) 986-9200 |
| CA | Sacramento | 3667 N Freeway Blvd | 65835 | (916) 419-8906 |
| CA | Redding | 1405 Dana Dr | 96003 | (530) 222-7707 |
| CA | Stockton | 10916-B Trinity Parkway | 95219 | (209) 313-2187 |
| CA | San Francisco | 707 Bay Shore Blvd | 94124 | (415) 467-4414 |
| CA | Concord | 2201 John Glenn Drive | 94520 | (925) 521-1977 |
| CA | Fairfield | 4865 Auto Plaza Court | 94534 | (707) 864-3537 |
| CA | Milpitas | 128 Ranch Drive | 95035 | (408) 262-6860 |
| CA | Oakland | 6195 Coliseum Way | 94621 | (510) 430-2588 |
| CA | Rohnert Park | 6001 Redwood Drive | 94928 | (707) 586-1649 |
| FL | Tallahassee | 1190 Capital Circle SE | 32301 | (850) 878-3095 |
| FL | Pensacola | 6861 N. 9th Ave. | 32504 | (850) 494-1717 |
| FL | Altamonte Springs | 880 W SR 436 | 32714 | (407) 389-1860 |
| FL | Orlando | 829 N. Alafaya Trail | 32828 | (407) 382-1505 |
| FL | Kissimmee | 1301 W. Osceola Parkway | 34741 | (407) 943-2080 |
| FL | Daytona Beach | 2400 W. International Speedway Blvd. | 32114 | (386) 252-2347 |
| FL | Sanford | 121 Towne Center Blvd. | 32771 | (407) 328-3100 |
| FL | Davenport | 5400 Grandview Pkwy | 33837 | (863) 588-3204 |
| FL | Pinellas Park | 7900 N. US HWY 19 | 33781 | (727) 803-0015 |
| FL | Wesley Chapel | 26222 Golden Maple Loop | 33543 | (813) 929-3501 |
| FL | Clearwater | 24244 US Highway 19 N | 33763 | (727) 431-0774 |
| FL | Tampa | 2915 N. Dale Mabry Hwy. | 33607 | (813) 940-3272 |
| FL | Inverness | 2705 Hwy 44W | 34453 | (352) 464-8978 |
| FL | Gainesville | 3964 Plaza Blvd. Suite 10 | 32608 | (352) 204-9010 |
| FL | Melbourne | 4360 West New Haven Ave. | 32904 | (321) 733-2150 |
| FL | Sebring | 1700 US North 27 | 33870 | (863) 202-8031 |
| FL | Lakeland | 4025 US HWY 98N | 33809 | (863) 816-1330 |
| FL | Brandon | 2615 Vildibill Drive | 33510 | (813) 654-5955 |
| FL | Sarasota | 4650 South Tamiami Trail | 34231 | (941) 925-5100 |
| GA | Augusta | 216 Robert C. Daniel, Jr. Pkwy. | 30909 | (706) 733-0300 |
| GA | Thomasville, | 2018 Pinetree Blvd. | 31792 | (229) 228-6702 |
| GA | Albany | 1223 N. Westover Blvd. | 31707 | (229)317- 4580 |
| GA | Columbus | 6499-B Whittlesley | 31909 | (706) 256-3980 |
| GA | Savannah | 8108 Abercorn St | 31406 | (912) 920-4646 |
| GA | Athens | 1850 Epps Bridge Parkway Suite 351 | 30606 | (706) 433-4200 |
| GA | Kennesaw | 840 Ernest Barrett Parkway, Suite 400 | 30144 | (770) 874-4663 |
| GA | Cumming | 2475 Market Place Boulevard | 30040 | (678) 756-1938 |
| GA | Buford | 3295 Buford Dr, Ste 100 | 30519 | (678)-714-3850 |
| GA | Marietta | 4281 Roswell Rd | 30062 | (678) 214-7175 |
| GA | Atlanta | 2535 Piedmont Road | 30324 | (404)239-6080 |
| GA | Newnan | 211 Newnan Crossing Bypass | 30265 | (770) 304-4480 |
| GA | McDonough | 1891 Jonesboro Road | 30253 | (770) 288-8680 |
| GA | Lithonia | 2900 Stonecrest Circle | 30038 | (770) 484-2910 |
| GA | Morrow | 1930 Mt. Zion Road | 30260 | (770) 472-4750 |
| GA | Alpharetta | 5980 North Point Parkway | 30022 | (470) 286-1602 |
| IL | Schaumburg | 905 Perimeter Drive | 60173 | (847) 240-5910 |
| IL | Algonquin | 2451 S Randall Road | 60102 | (847) 960-8300 |
| IL | Rockford | 7131 East State Street | 61108 | (815) 227-8600 |
| IL | Burbank | 7780 S. Cicero Ave | 60155 | (708) 952-4805 |
| IL | Mokena | 19800 South LaGrange Road | 60448 | (708) 478-2915 |
| IL | Joliet | 3200 Mall Loop Drive | 60431 | (815) 230-4280 |
| IL | Broadview | 200 Broadview Village Square | 60155 | (708) 547-3420 |
| IL | Bolingbrook | 875 E Boughton Road | 60440 | (630) 783-2346 |
| IL | Niles | 8251 W Golf Road | 60714 | (847) 470-2580 |
| IL | Naperville | 1584 South Illinois Route 59 | 60564 | (630) 369-3001 |
| IL | Romeoville | 1045 Crossroads Parkway | 60446 | (630) 410-5900 |
| IN | Merrillville | 1550 E Lincoln Hwy | 46410 | (219) 576-7423 |
| MS | Diberville | 3971 Promenade Parkway | 39540 | (228) 456-0900 |
| NC | Pineville | 11320 Carolina Place Pkwy. | 28134 | (704) 369-7800 |
| NC | Charlotte | 430 E. McCullough Dr | 28262 | (704) 369-2200 |
| NC | Hickory | 2201 US 70 SE. | 28602 | (828) 485-4300 |
| NC | Charlotte | 5345 South Blvd | 28217 | (704) 594-2000 |
| NC | Concord | 6060 Bayfield Pkwy. | 28027 | (704) 720-7400 |
| NC | Mooresville | 649 River Highway | 28117 | (704) 664-7440 |
| NC | Fayetteville | 5075 Morganton Rd. | 28314 | (910) 252-5000 |
| NC | Raleigh | 8331 Glenwood Ave. | 27612 | (919) 322-4005 |
| NC | Durham | 5458 New Hope Commons Dr. | 27707 | (919) 973-1697 |
| NC | Arden | 233 Airport Rd. | 28704 | (828) 681-8811 |
| NC | Greensboro | 1705 South 40 Drive | 27407 | (336) 369-0600 |
| NC | Winston Salem | 1150 Hanes Mall Blvd | 27103 | (336) 397-0300 |
| NC | Burlington, | 1439 University Drive | 27215 | (336) 395-0040 |
| NC | Shallotte | 25 Naber Dr | 28470 | (910) 754-3900 |
| NC | Greenville | 1975 SE Greenville Blvd | 27858 | (252) 295-4663 |
| NC | Jacksonville | 1250 A Western Blvd | 28546 | (910) 347-9366 |
| NC | Morehead City | 5160 US Hwy 70 | 28557 | (252) 240-3105 |
| NC  | Gastonia | 3932 E. Franklin Blvd. | 28056 | (704) 824-7400 |
| NV | Reno | 750 E. Moana Ln | 89502 | (775) 824-4800 |
| NV | Las Vegas | 6425 N. Decatur | 89131 | (702) 367-4663 |
| NV | Henderson | 661 Mall Ring Cr | 89015 | (702) 731-4663 |
| NV | Las Vegas | 91 S. Martin Luther King Blvd. | 89106 | (702) 450-4663 |
| NV | Las Vegas | 9200 W. Sahara Ave | 89117 | (702) 656-4663 |
| SC | Anderson | 3523-B Clemson Blvd | 29621 | (864) 328-2670 |
| SC | Spartanburg | 300 W. Blackstock Rd. | 29301 | (864) 327-3670 |
| SC | Columbia | 108 Harbison Blvd. | 29212 | (803) 451-8888 |
| SC | Bluffton | 101 Okatie Center Blvd N | 29909 | (843) 705-7900 |
| SC | N Charleston | 4950 Centre Pointe Dr | 29418 | (843) 513-1501 |
| SC | Florence | 2361 David H McLeod Blvd | 29501 | (843) 656-0780 |
| SC | Myrtle Beach | 906 Frontage Rd | 29577 | (843) 448-0300 |
| SC | Greenville | 1017 Woodruff Rd. | 29607 | (864) 331-2670 |
| UT | Layton | 1070 N. Main St. | 84041 | (801) 939-4663 |
| UT | Salt Lake City | 1773 S. 300 W. | 84115 | (801) 433-4663 |
| UT | Draper | 13177 S. 135 W. | 84020 | (385) 234-4663 |
| UT | Salt Lake City | 1415 S. 3200 W. | 84104 | (801) 433-9292 |
| VA | Danville | 143 Crown Drive | 24540 | (434) 793-2347 |
| WI | Arcadia | 343 S. Dettloff Dr. | 54612 | (608) 323-2270 |
| WI | Eau Claire | 4068 Commonwealth Ave | 54701 | (715) 830-1940 |
| WI | Kenosha | 12185 77th Street | 53142 | (262) 857-1000 |
AL
1310 Tingle Circle Suite H
Mobile, AL 36606
(251) 414-3456
2401 Interstate Drive
Opelika, AL 36801
(334) 364-0440
10200 Eastern Shore Blvd Suite 210
Spanish Fort, AL 36527
(251) 586-0174

AZ
1375 E. Florence Blvd.
Casa Grande, AZ 85222
(520) 876-4500
Glendale, AZ 85308
6910 W. Bell Rd. Suite B
(602) 443-4663
4711 E. Ray Rd.
Phoenix, AZ 85044
(480) 775-4663
1479 N. Dysart Rd
Avondale, AZ 85323
(623) 931-4663
6233 E. Southern Ave.
Mesa, AZ 85206
(480) 217-5219
5005 E. Marketplace Dr. Suite 130
Flagstaff, AZ 86004
(530) 949-7244
7000 E. Mayo Blvd. Suite 11
Phoenix, AZ 85054
(480) 812-4663
Phoenix, AZ 85009
109 N. 37th Ave,
(602) 442-7803

CA
5055 S Montclair Plaza Lane
Montclair, CA 31763
(909) 625-4420
34740 Monterey Ave
Palm Desert, CA 32211
(760) 202-3052
39626 10th Street West
Palmdale, CA 93551
(661) 225-9410
Santa Clarita, CA 91350
26520 Carl Boyer Dr
(661) 284-7200
12704 Amaragosa Road
Victorville, CA 92392
(760) 261-5386
401 N 1st Street
Burbank, CA 91502
(818) 840-5620
7410 Carson Blvd
Long Beach, CA 90808
(562) 766-2050
9301 Tampa Ave Suite 1401
Northridge, CA 91324
(818) 717-1740
1721 E Ventura Blvd
Oxnard, CA 93036
(805) 981-0284
2753 E Eastland Ctr Dr Suite 2078
West Covina, CA 91791
(626) 938-1480
855 Ashley Way
Colton, CA 92324
(909) 433-5303
14600 S Ocean Gate Ave
Hawthorne, CA 90250
(310) 349-2083
1810 South Broadway
Los Angeles, CA 90015
(213) 745-2980
2800 N Main Place St Ste 2100
Santa Ana, CA 92705
(714) 558-5300
22705 Savi Ranch Pkwy
Yorba Linda, CA 92887
(714) 363-9900
18060 Euclid St
Fountain Valley, CA 92708
(714) 549-3200
7770 Miramar Rd
San Diego, CA 92126
(619) 393-4663
1050 Los Vallecitos Blvd
San Marcos, CA 92069
(760) 304-8040
24001 El Toro Road Suite 1
Laguna Hills, CA 92653
(949) 461-0829
25125 Madison Avenue Ste. 106
Murrieta, CA 92562
(951) 894-7988
2799 E Bidwell Street
Folsom, CA 95630
(916) 986-9200
3667 N Freeway Blvd
Sacramento, CA 65835
(916) 419-8906
1405 Dana Dr
Redding, CA 96003
(530) 222-7707
10916-B Trinity Parkway
Stockton, CA 95219
(209) 313-2187
707 Bay Shore Blvd
San Francisco, CA 94124
(415) 467-4414
2201 John Glenn Drive
Concord, CA 94520
(925) 521-1977
4865 Auto Plaza Court
Fairfield, CA 94534
(707) 864-3537
128 Ranch Drive
Milpitas, CA 95035
(408) 262-6860
6195 Coliseum Way
Oakland, CA 94621
(510) 430-2588
6001 Redwood Drive
Rohnert Park, CA 94928
(707) 586-1649

FL
1190 Capital Circle SE
Tallahassee, FL 32301
(850) 878-3095
6861 N. 9th Ave.
Pensacola, FL 32504
(850) 494-1717
880 W SR 436
Altamonte Springs, FL 32714
(407) 389-1860
829 N. Alafaya Trail
Orlando, FL 32828
(407) 382-1505
1301 W. Osceola Parkway
Kissimmee, FL 34741
(407) 943-2080
2400 W. International Speedway Blvd.
Daytona Beach, FL 32114
(386) 252-2347
121 Towne Center Blvd.
Sanford, FL 32771
(407) 328-3100
5400 Grandview Pkwy
Davenport, FL 33837
(863) 588-3204
7900 N. US HWY 19
Pinellas Park, FL 33781
(727) 803-0015
26222 Golden Maple Loop
Wesley Chapel, FL 33543
(813) 929-3501
24244 US Highway 19 N
Clearwater, FL 33763
(727) 431-0774
2915 N. Dale Mabry Hwy.
Tampa, FL 33607
(813) 940-3272
2705 Hwy 44W
Inverness, FL 34453
(352) 464-8978
3964 Plaza Blvd. Suite 10
Gainesville, FL 32608
(352) 204-9010
4360 West New Haven Ave.
Melbourne, FL 32904
(321) 733-2150
1700 US North 27
Sebring, FL 33870
(863) 202-8031
4025 US HWY 98N
Lakeland, FL 33809
(863) 816-1330
2615 Vildibill Drive
Brandon, FL 33510
(813) 654-5955
4650 South Tamiami Trail
Sarasota, FL 34231
(941) 925-5100

GA
216 Robert C. Daniel, Jr. Pkwy.
Augusta, GA 30909
(706) 733-0300
2018 Pinetree Blvd.
Thomasville, GA 31792
(229) 228-6702
1223 N. Westover Blvd.
Albany, GA 31707
(229)317- 4580
6499-B Whittlesley
Columbus, GA 31909
(706) 256-3980
8108 Abercorn St
Savannah, GA 31406
(912) 920-4646
1850 Epps Bridge Parkway Suite 351
Athens, GA 30606
(706) 433-4200
840 Ernest Barrett Parkway, Suite 400
Kennesaw, GA 30144
(770) 874-4663
2475 Market Place Boulevard
Cumming, GA 30040
(678) 756-1938
3295 Buford Dr, Ste 100
Buford, GA 30519
(678)-714-3850
4281 Roswell Rd
Marietta, GA 30062
(678) 214-7175
2535 Piedmont Road
Atlanta, GA 30324
(404)239-6080
211 Newnan Crossing Bypass
Newnan, GA 30265
(770) 304-4480
1891 Jonesboro Road
McDonough, GA 30253
(770) 288-8680
2900 Stonecrest Circle
Lithonia, GA 30038
(770) 484-2910
1930 Mt. Zion Road
Morrow, GA 30260
(770) 472-4750
5980 North Point Parkway
Alpharetta, GA 30022
(470) 286-1602

IL
905 Perimeter Drive
Schaumburg, IL 60173
(847) 240-5910
2451 S Randall Road
Algonquin, IL 60102
(847) 960-8300
7131 East State Street
Rockford, IL 61108
(815) 227-8600
7780 S. Cicero Ave
Burbank, IL 60155
(708) 952-4805
19800 South LaGrange Road
Mokena, IL 60448
(708) 478-2915
Joliet, IL 60431
3200 Mall Loop Drive
(815) 230-4280
Broadview, IL 60155
200 Broadview Village Square
(708) 547-3420
Bolingbrook, IL 60440
875 E Boughton Road
(630) 783-2346
Niles, IL 60714
8251 W Golf Road
(847) 470-2580
Naperville, IL 60564
1584 South Illinois Route 59
(630) 369-3001
Romeoville, IL 60446
1045 Crossroads Parkway
(630) 410-5900
Merrillville, IN 46410
1550 E Lincoln Hwy
(219) 576-7423

MS
Diberville, MS 39540
3971 Promenade Parkway
(228) 456-0900

NC
Pineville, NC 28134
11320 Carolina Place Pkwy.
(704) 369-7800
Charlotte, NC 28262
430 E. McCullough Dr
(704) 369-2200
Hickory, NC 28602
2201 US 70 SE.
(828) 485-4300
Charlotte, NC 28217
5345 South Blvd
(704) 594-2000
6060 Bayfield Pkwy.
Concord, NC 28027
(704) 720-7400
649 River Highway
Mooresville, NC 28117
(704) 664-7440
5075 Morganton Rd.
Fayetteville, NC 28314
(910) 252-5000
8331 Glenwood Ave.
Raleigh, NC 27612
(919) 322-4005
5458 New Hope Commons Dr.
Durham, NC 27707
(919) 973-1697
233 Airport Rd.
Arden, NC 28704
(828) 681-8811
1705 South 40 Drive
Greensboro, NC 27407
(336) 369-0600
1150 Hanes Mall Blvd
Winston Salem, NC 27103
(336) 397-0300
1439 University Drive
Burlington, NC 27215
(336) 395-0040
25 Naber Dr
Shallotte, NC 28470
(910) 754-3900
1975 SE Greenville Blvd
Greenville, NC 27858
(252) 295-4663
1250 A Western Blvd
Jacksonville, NC 28546
(910) 347-9366
5160 US Hwy 70
Morehead City, NC 28557
(252) 240-3105
3932 E. Franklin Blvd.
Gastonia, NC 28056
(704) 824-7400

NV
750 E. Moana Ln
Reno, NV 89502
(775) 824-4800
6425 N. Decatur
Las Vegas, NV 89131
(702) 367-4663
661 Mall Ring Cr
Henderson, NV 89015
(702) 731-4663
91 S. Martin Luther King Blvd.
Las Vegas, NV 89106
(702) 450-4663
9200 W. Sahara Ave
Las Vegas, NV 89117
(702) 656-4663

SC
3523-B Clemson Blvd
Anderson, SC 29621
(864) 328-2670
300 W. Blackstock Rd.
Spartanburg, SC 29301
(864) 327-3670
108 Harbison Blvd.
Columbia, SC 29212
(803) 451-8888
101 Okatie Center Blvd N
Bluffton, SC 29909
(843) 705-7900
4950 Centre Pointe Dr
N Charleston, SC 29418
(843) 513-1501
2361 David H McLeod Blvd
Florence, SC 29501
(843) 656-0780
906 Frontage Rd
Myrtle Beach, SC 29577
(843) 448-0300
1017 Woodruff Rd.
Greenville, SC 29607
(864) 331-2670

UT
1070 N. Main St.
Layton, UT 84041
(801) 939-4663
1773 S. 300 W.
Salt Lake City, UT 84115
(801) 433-4663
13177 S. 135 W.
Draper, UT 84020
(385) 234-4663
1415 S. 3200 W.
Salt Lake City, UT 84104
(801) 433-9292

VA
143 Crown Drive
Danville, VA 24540
(434) 793-2347

WI
343 S. Dettloff Dr.
Arcadia, WI 54612
(608) 323-2270
4068 Commonwealth Ave
Eau Claire, WI 54701
(715) 830-1940
12185 77th Street
Kenosha, WI 53142
(262) 857-1000